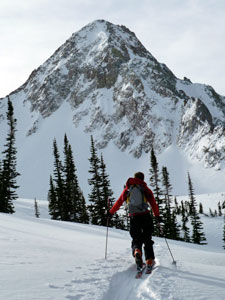 We offer ski guiding both domestically and internationally. We spend the early winter ski guiding in the Wasatch Range — our backyard, close to our home in Salt Lake City, Utah. The local license plate here reads "greatest snow on earth" and it is hard to argue with that claim when the cold dry powder blows over your head while you are skiing down under a sunny blue sky. We guide here through the local guide service Utah Mountain Adventures. The Wasatch is a great early winter destination, offering incredible snow and diverse backcountry ski terrain. This is a great way to learn skills and get some fitness for a hut trip later on in the season.
The main season for hut trips and extended ski tours starts in early March and runs through mid-May. Typically, we spend the majority of this time guiding ski trips in the European Alps including the classic Haute Route from Chamonix to Zermatt, a traverse of the Ortler range in Italy, Mont Blanc ski descents, and many other day ski trips from Chamonix or other places in the Alps. These trips are simply world-class ski tours. The wide open scenery is breathtaking, the huts are incredible and you can do a six-day ski tour carrying little more than a day pack. Please check our calendar to see when these trips may be available or contact us with specific dates to better accommodate you.
If you are looking for a more remote experience we can also set up a trip through Valhalla Mountain Touring, a backcountry ski lodge located in the Selkirk range of British Columbia, Canada. After accessing the lodge via snow cat, we would tour each day from the hut to ski untracked snow on new terrain.
Ever dreamed of skiing to the ocean? We also offer ski trips to Iceland with Borea Adventures: sleep on a boat, eat gourmet food and ski from the boat each day. The sailor will come and meet us in the following fjord!