Into the Mountains is guide service established and run by Caroline and Adam George.
"We met while ice climbing, had our first date on a climb and got engaged on the top of a summit. Needless to say, we are not just passionate about climbing, it is simply our way of life. Between the two of us we have nearly 40 years of climbing experience all over the world. Our business was born from our desire to share our passion, skills and knowledge of the mountains with our clients worldwide. We split our time between Chamonix, France and Salt Lake City, USA and run most of our trips from these locations. However, we travel extensively and have guided all over the world. We offer guiding and instruction in alpine, ice and rock climbing and in backcountry skiing."
Caroline George, IFMGA/UIAGM certified guide
Caroline was born in a small ski village in the Swiss Alps. She was introduced to climbing at a young age by her parents. Despite graduating with a law degree from university and speaking four languages, Caroline decided to pursue climbing professionally. She competed for three years in the ice climbing world cup and has worked as a sponsored athlete since 2000. Some of her accomplishments include: first ascents of difficult ice and mixed routes in the Canadian Rockies, ascents of El Cap and Half Dome in Yosemite Valley, the North Face of the Eiger, Grands Jorasses and Matterhorn, the Freney Pillar on Mont Blanc, first ascents rock climbing in Ethiopia and first ice climbing ascents in Iceland, Canada, Norway and Antarctica. Caroline has worked for a variety of guide services including: Utah Moutain Adventures, Exum Mountain Guides, Alpine Ascents International, Chicks with Picks, Dream Guides, Atypeak, Mountain Tracks and ISM. Outside of guiding, Caroline works as a freelance writer, yoga instructor, social media consultant, translator, speaker and professional athlete for her sponsors.
Read an interview of Caroline here
Caroline's Career highlights
North Face of the Eiger and Matterhorn (winter ascent) and Grandes Jorasses (Walker Spur)
North Face of the Drus
North Face of the Cima Grande
Freney Pillar
North face of the Droites
The Zodiac, El Capitan, Yosemite
First ascents of ice routes in Canada including The Shadow
First Ascent of ice climbs in Iceland
First Ascent of rock climbs in Ethiopia
First Ascent of alpine climbs in Antarctica (video)
Beyond Good and Evil, North Face of Aiguille des Pelerins
Ice climbing competitions including: Ouray Ice Fest, Bozeman Ice Fest, Ice World Cup and Festiglace
Ski Mountaineering competition including the Patrouille des Glaciers
5.12 rock, WI6+, M9
Adam George, IFMGA/UIAGM certified guide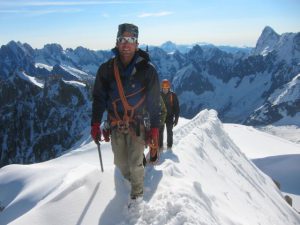 Adam grew up in New Hampshire and discovered his love for the outdoors in the White Mountains. He began climbing at the age of 15 and has devoted his life to this passion ever since. In fact, upon graduating high school, he made his first ascent of El Capitan in Yosemite at the age of 18. After graduating from Middlebury College in Vermont with a BA in Geography, his love for the mountains and adventure took him around the globe. Some of his trips include expeditions to: Alaska, Argentina, New Zealand, Australia, India, Nepal, Thailand, Greece, extensive climbing in the Alps and in North America. Adam is well versed in all disciplines of the sport having done one-day ascents of big-walls in Yosemite, test-piece Canadian ice climbs, many classic alpine routes in the Alps and difficult free routes.
Adam's Career highlights
5.13 rock climbs WI6 ice climbs M10 mixed climbs
Six ascents of El Capitan, including a One day ascent of The Nose
Grand Traverse of Mount Cook in New Zealand
Grand Traverse of the Tetons, Wyoming
Free ascent of Moonlight Buttress in Zion NP
Freney Pillar and two ascents of the Grand Pillar d'Angle on Mont Blanc, including Divine Providence – 22hrs. hut to hut
Three ascents of the Grandes Jorasses north face
North Face of the Matterhorn
Summit of Cerro Fitz Roy and Cerro Torre in Patagonia, Argentina
Three ascents of the Eiger North Face, including a one-day and guided ascent
Summit of Denali